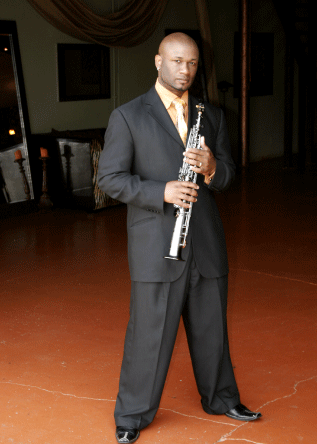 Some things in life, we choose to do. Then, there are certain things we have to do. For Antonio Allen, music falls into the later category. His love of music has been there from the start. Growing up in a house full of musicians, there was always some sort of musical activity taking place in his life and his household. At an early age, Antonio began attending rehearsals with his oldest brother who had his own band in the late 70's. But what influenced Antonio most was his involvement in church. Antonio's mother, now deceased, was a pastor. Needless to say, going to church wasn't an option. Antonio's love of soulful melodies was birthed during this period of his life. Antonio first picked up the saxophone at eight years of age. He immediately began to play the music of television shows and commercials. He started his own band at 14. At 15, he received his first paying gig in a popular night club in the Atlanta area. Because of his young age, Antonio was only allowed on stage and in a dressing room behind stage. At that club, Antonio met and opened for Stevie Wonder, Al B Sure, Peabo Bryson, Jermaine Jackson, and Jean Carne. With that experience under his belt, Antonio continued to perform all over the city of Atlanta. During the 90's, Antonio could be seen regularly on the jazz scene of Atlanta providing sweet, soulful music in such venues as Jazzmen's, Club Illusions, Marco's, The Catfish Station, Cafe' 290, Hairston's, Teddy's Live, Vegas Nights, The Martini Club, The Crow's Nest and several other popular jazz spots.
Antonio's involvement on the jazz circuit in Atlanta also has afforded him the opportunity to perform at numerous events in and out of the Atlanta area. Private parties for the Cola Cola Company, The Atlanta Athletic Club, TBS, Jane Fonda, Clark Atlanta University, The 100 Black Men, The Black Enterprise Golf Classic, and numerous law firms, fraternities and sororities just to name a few. Antonio also did a tribute to Stevie Wonder at the home of the "REAL" homerun king, Hank Aaron. In August, 2003, Antonio provided the music for the wedding and reception of the late Tupac Shakur's sister at the Shakur's family estate in Stone Mountain, GA. At the 2007 Who's Who In Black Atlanta, Antonio along with the other member's of Five Men, not only provided entertainment, but were honored as five of the most Distinguished Men In Atlanta.
Other highlights in Antonio's music career include performing the National Anthem at the Democratic Convention, live performances with former NBA star turned bassist, Wayman Tisdale, smooth jazz great, Kim Waters, RandB legend Jean Carne, and platinum recording artists, Silk and Tony Rich. One of Antonio's more special moments was when he performed Mr. Magic live on stage at Centennial Olympic Park in Atlanta with his musical idol, Kirk Whalum.
To date, Antonio has three solo recordings, "Lost Without Hymn", "Forever and Always" and "The Air I Breathe" . "Lost Without Hymn" features a recording with vocalist Mark Kibble, lead singer of Take 6, the 7 time Grammy award-winning vocal group. "Forever and Always" features some of the music industry's best musicians. John Roberts on drums (Janet Jackson), Phil Davis on keys and production (George Duke), Vance Taylor on piano (Frankie Beverly and Maze), Rick Watford on acoustic guitar (CeCe Winans), and Mark Strowbridge on lead guitar (Musiq Soulchild). "The Air I Breathe" is Antonio's latest CD. It features some of Antonio's favorite praise and worship songs with an A2 twist. Antonio also has performed on three solo albums with Speech of Arrested Development.
Even while active on the jazz scene , Antonio remains very committed to the church, which is where it all began. Antonio played keyboards and served as minister of music at his mother's church, Outreach Deliverance Ministries, for several years. He also served on the staffs of Victory Baptist Church, Israel Baptist Church, The Fountain of Life and Word Of Faith where Bishop Dale Bronner is pastor. Antonio has and continues to accepted several invitations to share his gift of music at churches all over the United States. In January 2008, Antonio wowed a star filled sanctuary @ the Historic Ebenezer Baptist Church in Atlanta just before Rev. Jesse Jackson spoke. In 2004, Antonio amazed 15,000 people with his seemingly breathless performance. If you've ever experienced one of his performances, i'm sure you were just as amazed!!! (How DOES he do that??????)
Antonio Antonio Allen is truly a gifted musician and songwriter. Although his gifts have provided him opportunities to travel around the U.S. and abroad and to meet famous people as well, his motivation is not fame or fortune. More than anything, Antonio hopes his music touches the hearts of his listeners.